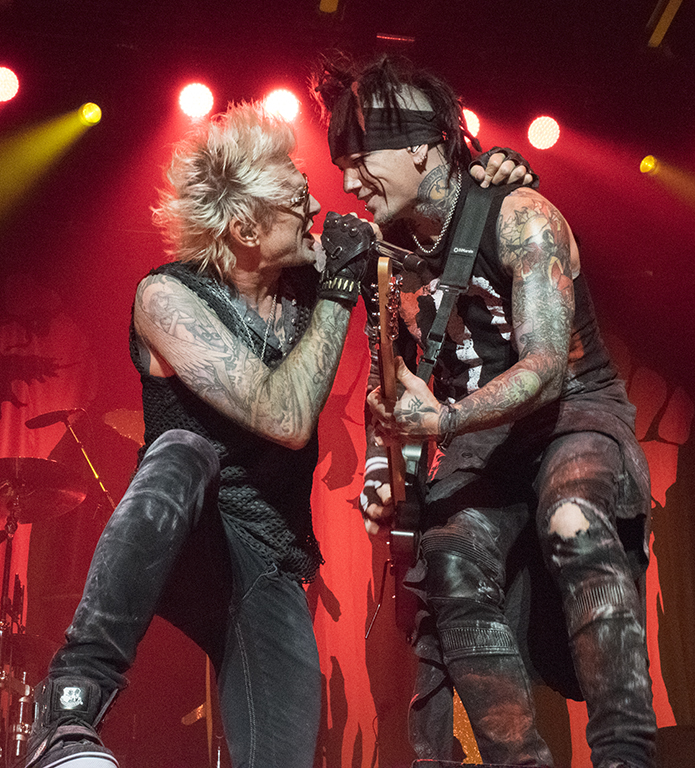 Loading Likes...

Story and photos by Ryan Forbes
The GM Centre was treated to a roaring show on Saturday as some of the biggest names in rock came to Oshawa. Once the doors opened, it was non-stop action from there.
Fresh off of their debut album Day One, Pennsylvania-based From Ashes to New started the show and got the crowd on their feet with their fast-paced percussion and quick lyricism. They've been touring on and off since last March, and have been making waves in the underground scene since they released their self-titled EP.
Nick Allison has been touring with the band since their appearance on the Van's Warped Tour as the man in charge of the merchandise, and he tells us a little bit about how the tour has went so far. "It's a pretty sick tour, being the merch guy, you're first in the building and last out of the building, but it's been great. I get a unique perspective on the tour, I get to talk to more fans than anyone else, and I'm having a great time. Everybody is so kind and it's cool to see so many people,. Oshawa's been pretty damn good to us."
Being from Pennsylvania, Nick quickly noted what his favourite part of Canada has been. "I've definitely been enjoying the Tim Hortons." He says  his favourite part of the tour so far has been being able to see one of his idols night in and night out. "It's cool to tour with such crazy bands, and it's really cool to tour with Nikki Sixx. Motley Crue were one of my first rock shows, I remember seeing them rock the stage and saying Music is what I want to do for the rest of my life, the man is an inspiration,"


Nikki Sixx took to the stage second to represent his band, Sixx: A.M. You could immediately tell that the band was full of experienced rockers as vocalist James Michael, guitarist DJ Ashba and of course Nikki Sixx were all feeding off of the crowd, striking all of the right poses and enjoying themselves just as much as the crowd was enjoying the show. You could quickly tell that they love to perform and the fans couldn't get enough. James Michael was a real standout as he hit every note perfectly, moved around the stage and was really feeling it as he interacted with Sixx and Ashba quite often as they broke out in smiles themselves.
Papa Roach were the final band on stage and real crowd pleasers as they pulled out all of the stops and played their biggest hits to the crowd's delight as the fans recited every word. Partway through the show lead vocalist Jacoby Shaddix and guitarist Jerry Horton walked to a small stage on the show floor and played an intimate acoustic version of one of their most memorable songs, Scars, as phones and lighters lit up the stadium.