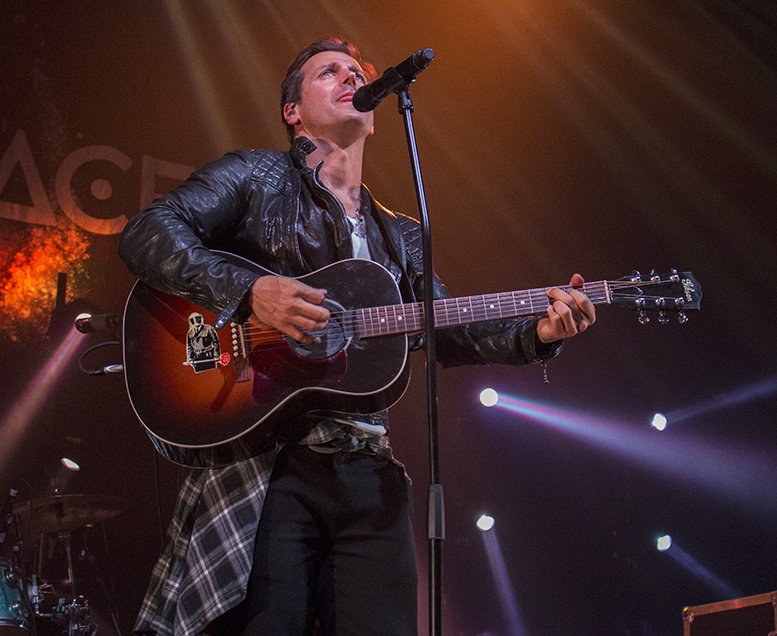 Loading Likes...
Review and photos by Brandon Peddle
The weather was unseasonably warm, the venue conveniently located and the fans more than ready for a night of rock. They would not be disappointed. As the crowd began to flow into the General Motors Centre (now renamed the Tribute Communities Centre), the stage was set for a brilliant display of lighting, music, talent and band to fan interaction.


The fans seemed quietly content while awaiting the first act of the evening. It started with the touch of the pick on a guitar string, it was time to let go and enjoy the show! First on the musical menu, The Standstills. They may not be as widely known throughout Canada as other bands yet, but they definitely know how to bring it. As always, the opening bands don't often get to hog the limelight for long, and in this case it was short but sweet. The opening acts helped lay the groundwork and truly setting the tone for thrilling finale.
Next up was I Mother Earth, featuring Edwin on vocals, and it was fantastic! This group of musicians quickly proved they were no stranger to the spotlight, bringing many fans in attendance to their feet. I've been to quite a few concerts over the course of my lifetime and you don't always know what to expect from the opening bands, but in this instance I was very impressed. The quality of the vocals, music, lighting, etc. were top-notch.


Last but not least were the headliners, Our Lady Peace (OLP). This Canadian group of rockers landed in one of the very places where it all began, Oshawa, Ontario. They've certainly come a long way since the early '90s. Michael or better known by stage name Raine, showed fans in the GM Centre why, after all these years, they still love Our Lady Peace.
The iconic vocals and unique sound that these gentlemen are known for was vividly on display as they left it all on the stage and never looked back. OLP had fans singing along to just about every song. Many adoring fans never sat back down.


These rock stars captured the musical heart of Oshawa while performing many well-known hits such as Clumsy and Superman's Dead. Showcasing their incredible talent, they also gave fans a taste of new music, introducing many to a recently record track titled, Drop me in the water. These fellas seem to have plenty left in the tank and as a fan, I'm excited to see what their future holds.