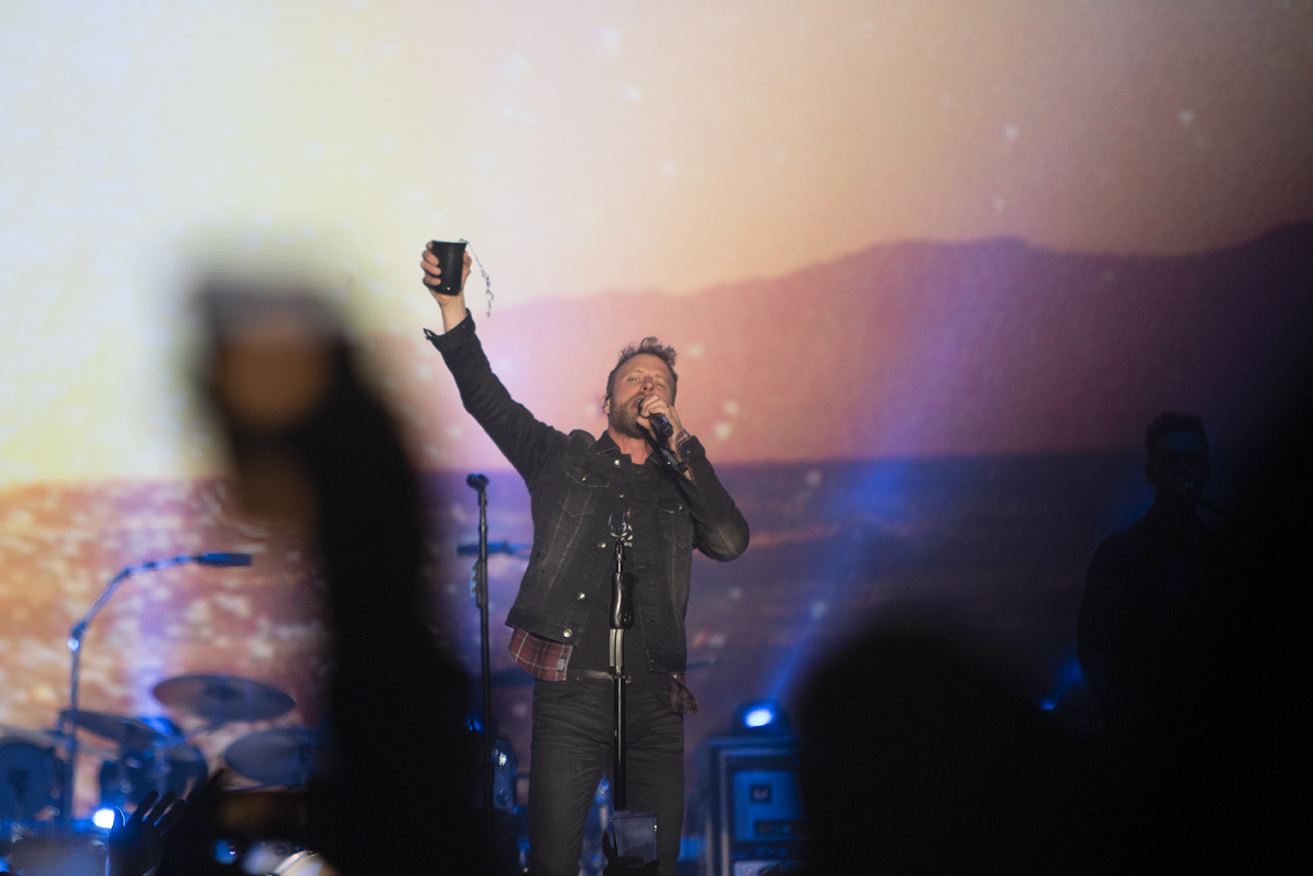 Loading Likes...
Story and photos by Mike Kern
Dierks Bentley took to the stage Saturday at the Tribute Communities Centre along with The Hot Country Knights, Tenile Townes, and Jon Pardi. A lot of hype was built around this show and it lived up to all expectations.
Starting with The Hot Country Knights – which includes Dierks along with some old friends – the band was phenomenal. They wear wigs and it seemed a lot of the crowd didn't realize the Dierks was part of the band. He went around the front of the stage singing a love song and handed out roses to girls in the crowd. They finished off with some scripted arguing between band members and it was hilarious.
Tenile then took the stage in the third show of her first ever arena tour. She expressed how excited she was to be on the road with Dierks, and how happy she was to be back in her native land. Her hit song "Somebody's Daughter" has gained her tons of new fans and she was able to showcase some of her lesser known songs. I thought she could have done a bit more entertaining as she didn't move at all from her mic stand, but I think that skill will come with more experience.
Jon Pardi hit the country music scene a couple years ago and has several songs that have gone number one. It seems he's gotten quite used to the spotlight and absolutely killed it on stage. It was my first time seeing him and I thought the way he was able to interact and have fun with the crowd reiterated in my mind why he finds himself as one of country's biggest stars.
The main event and the reason we were all there, Dierks Bentley, finally got to the stage and the crowd was insane for him. I had seen him at Boots and Hearts a few years back and I thought he was great then and I was interested how he would change his show indoors. To me, he put on the ultimate performance. He knew when to take a minute and tell a funny story or even shotgun a beer with a fan. He had a second stage at the very back of the floor that he went out to toward the end of the show to sing, which I thought was awesome to involve the people in the back of the crowd in that up close and personal experience.
All in all I would highly recommend anyone that hasn't seen him play to make the time to see him next time he comes back to GTA.