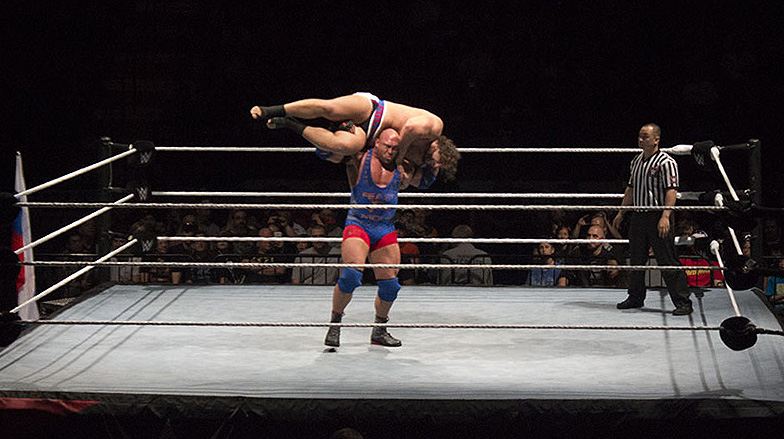 Loading Likes...
Story and photos by Nick Konarowski
For the first time in more than a decade, the WWE brought live wrestling action to Oshawa on a Sunday afternoon.
While many of the top names in the company were absent from the event (U.S. champion John Cena, Roman Reigns, WWE champion Seth Rollins, Daniel Bryan, etc.), the matinee show still packed plenty of excitement to entertain a close to capacity crowd at the GM Centre. With Daniel Bryan not on the card due to an injury, the main event match was changed to see Dean Ambrose take on Luke Harper in a streetfight, and the two did not disappoint. In an all out brawl that featured the use of chairs, a kendo stick, tables, and interference from other WWE superstars, Ambrose pulled out the victory after hitting his 'Dirty Deeds' finishing move on a chair to score the pin. 

Even though many people in the crowd were saddened by the fact they could not perform the 'Yes!' chant with Bryan, as evidenced by the 'We want Bryan' chants throughout the afternoon, Ambrose's efforts in a solid main event were enough to send the crowd home happy
Another big match on the card, both literally and figuratively, saw Ryback defeat Rusev. In a battle of two near-300 pounders, the fan favourite Ryback was able to use the "Shell Shock" on his Russian opponent to get the three count. The crowd wasn't pleased when Rusev sent his manager Lana to the backstage area mid-match, giving them even more reason to cheer for a Ryback victory.
Other matches on the card included Cesaro and Tyson Kidd beating WWE tag team champions New Day by DQ, Charlotte (the daughter of Ric Flair) defeating Naomi, high-flyer Neville using his amazing corkscrew moonsault to beat Bad News Barrett, Sami Zayn scoring a win over Heath Slater, Damien (don't call me Mizdow) Sandow coming out victorious over Bo Dallas, and Jimmy Uso teaming up with the Prime Time Players in a six-man tag match to pick up a win over Erik R
owan and the Ascension.